Good afternoon mCommunity! As Meltwater's Implementation and Onboarding team, we often get asked by our customers how to be in the know of all the media coverage relevant to them. In this situation, we recommend you take advantage of our daily digest and our alerts. 
The daily digest is a nice clean email that you can receive daily, twice daily, or weekly directly into your inbox of all of your media coverage for that day or week. To get started, you'll need to create and save your first search (or searches) in Meltwater. 
To get started, navigate to Report > Digest Report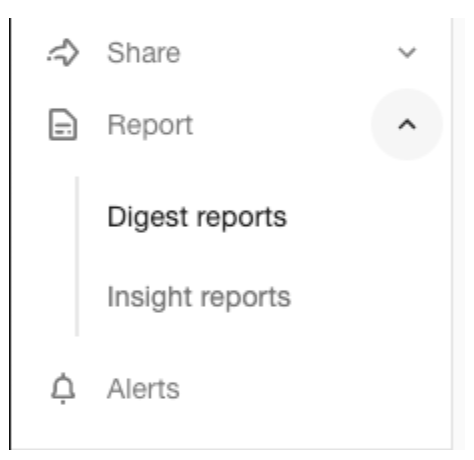 I'm going to set up a daily digest to be sent to me twice daily. Once at 10 am and another at 4 pm. 
The title will be the subject line of the email. Then you select your inputs, which are your saved searches. Next, let's pick the sort of articles. I like to sort by reach so the biggest news outlets or Twitter influencers will be at the top of the email. Under Delivery Options is where we select which users should receive the digest email and when it should be sent. In my example, the team will receive the digest every weekday at 10 am and again at 4 pm. The 4 pm digest email will contain all coverage from 10 am to 4 pm that day, whereas the 10 am email will show coverage from 4 pm the day before to 10 am.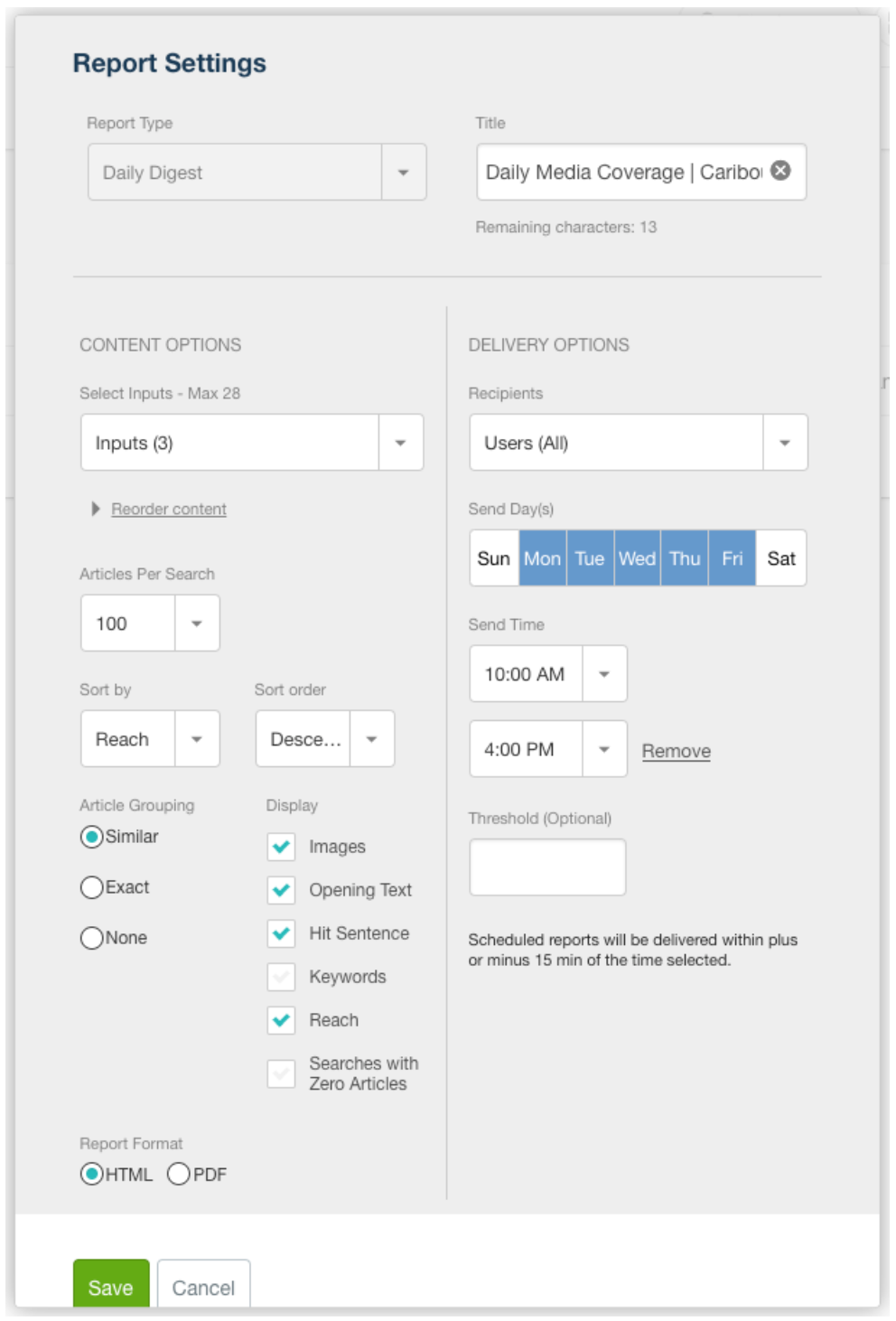 Like daily digest, Meltwater Alerts can send media coverage directly to your inbox. Alerts are more event-based, rather than a simple digest of all the coverage. This is great if you want to be alerted if there is a sudden spike in coverage, a shift in sentiment, or maybe a high-reaching outlet published content about your brand or competitors. 
To get started, go to the alerts section of Meltwater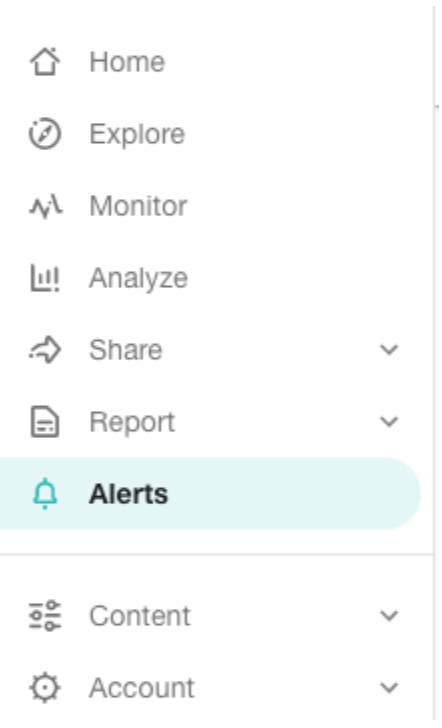 Our most popular alert is a "spike detection" alert. Below is how I've set up my alert for when there is a sudden spike in coverage about Caribou Coffee. 
Begin by selecting your saved searches and then select who should receive these alerts. With Meltwater alerts, you can select either users of Meltwater or you can input any email address. Your colleagues do not need a Meltwater login in order to receive alerts. 
Finally, you'll select how you want these alerts delivered. Most customers choose to use the email alert. However, you can fire these alerts off to your Slack or Microsoft Teams accounts.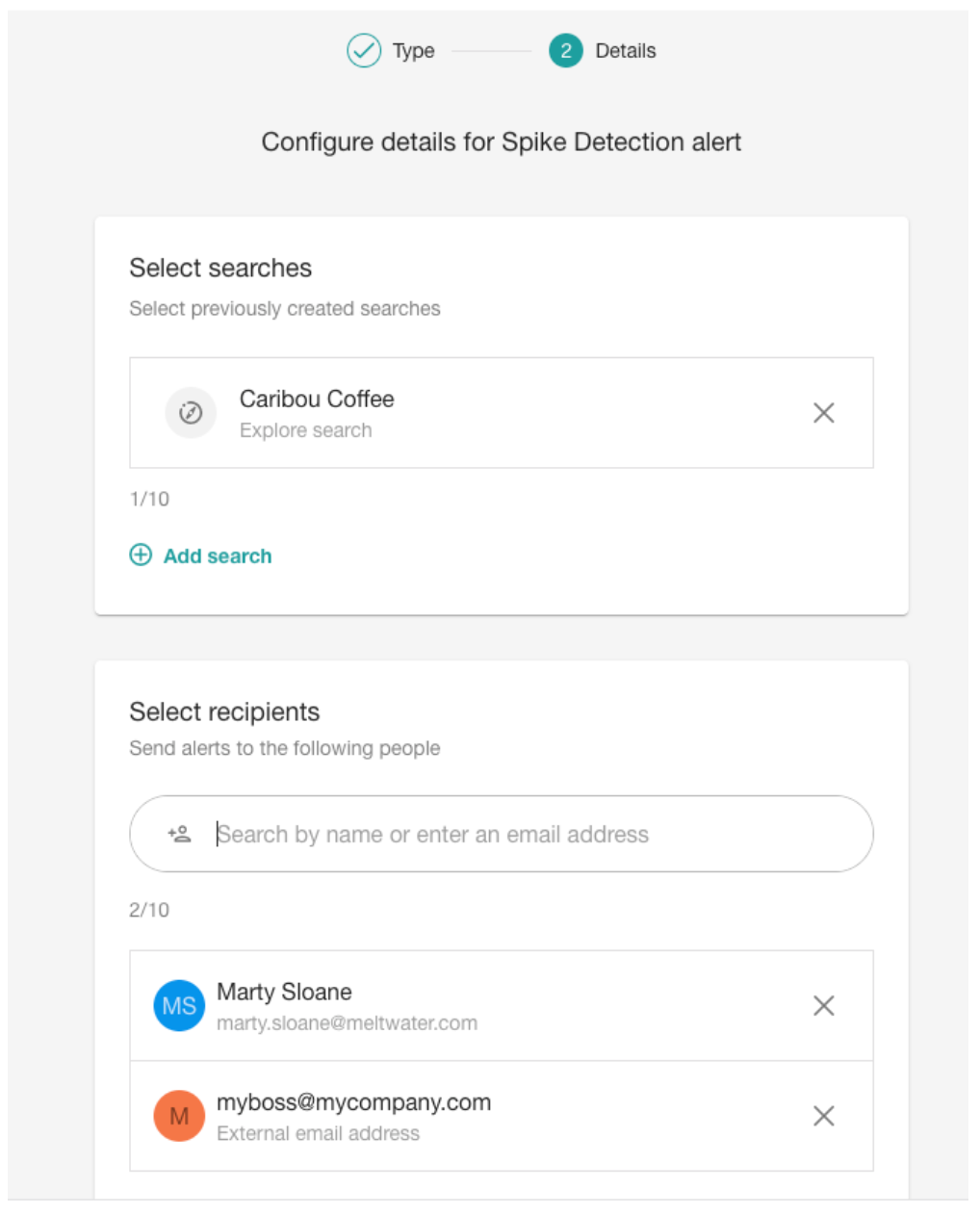 That's the quick and easy way to set up both digest and alerts in Meltwater. Between Digest and Alerts you should be kept in the know about the media coverage for your selected searches, without having to log into Meltwater. 
If you find yourself getting too much content in your alerts and digest, you may want to consider narrowing down your searches to find the most relevant results. For example, you may want to update your searches to exclude content about stock trading or earning reports. You may also want to exclude press releases or market reports that mention your brand. Another strategy would be to better target your searches about certain key topics, such as your leadership team, a crisis, or a campaign.