Hello mCommunity! I am Marty Sloane, leading up the North American Implementation and Onboarding team. I am excited to welcome our newest users to Meltwater. 
My team's focus is to get our customers up and running on Meltwater as quickly as possible. One question we get asked quite frequently is, "What is the quickest way that I can spin up a report about my brand or competitor across all media?" Allow me to answer how you can create a quick and easy omnichannel report in less than 5 minutes. 
From your home page, simply input the name of your brand or competitor in the search bar. I'll use Warby Parker as an example. 
From your search, select the "Company" below. 
Now we are brought in Meltwater's Media Monitoring platform, Explore. Let's now select the time frame we wish to analyze. I'm going to select the last 30 days by using the date picker in the top right corner. 
Next, we'll want to select which tab of Explore we wish to create a report from. The most popular are the Overview or Analytics tabs. I'm personally a fan of the "Analytics" one. (Note that your subscription may only include the Overview tab)
Meltwater will now create a report a-la PowerPoint style of Warby Parker's media coverage. Each slide will be the data widget you saw back in Explore. You'll have the option to either edit the slides or share them as is. Most customers like to edit the report a little bit to remove slides that may not be relevant to your organization and to add free text to speak to your insights. 
Once you share the slides, you'll need to give it a password. 
Finally, you'll have 4 ways to share or download the report. The easiest is to get the report link. Anyone with internet access can view the report via the link. Your colleagues will not need to log into Meltwater. Or if you rather you can download the report as a PowerPoint, PDF, or Google Slides.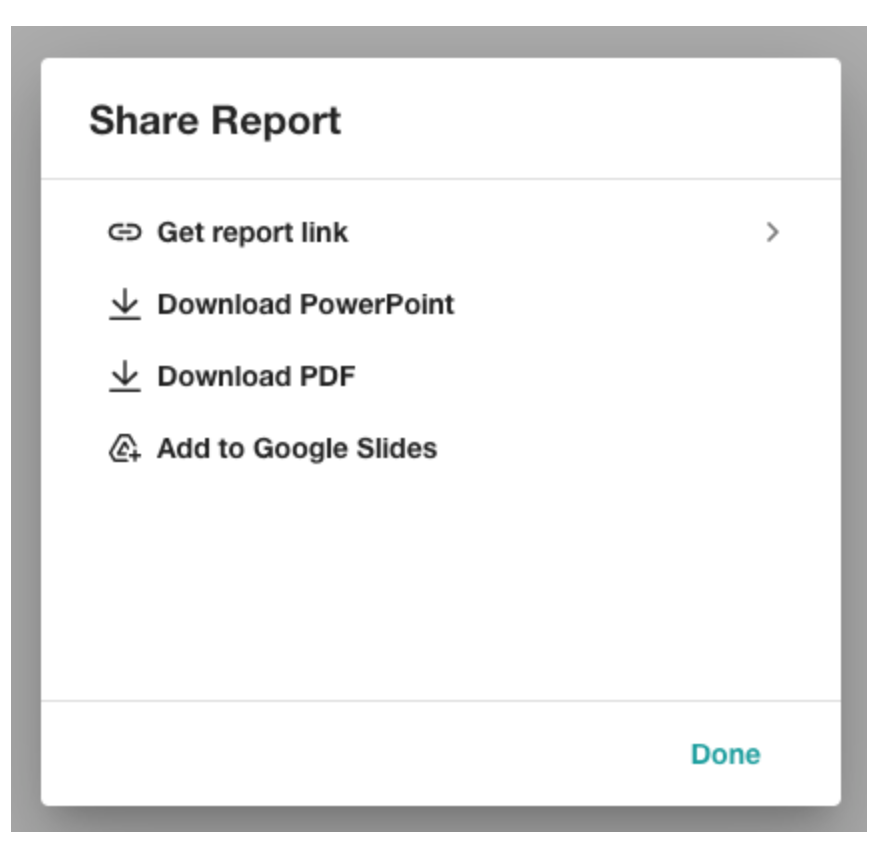 That's it! You now created a report in Meltwater in 5 minutes. You've earned your afternoon cup of coffee today